Palm Fruit ( Kernel) Oil Processing Machine/Palm Oil Extraction Machine
Brief intro:
Palm Fruit ( Kernel) Oil Processing Machine/Palm Oil Extraction MachineHenan huatai palm oil processing main processes: weighing, unloading fruit, sterilizer, removing fruits, mashed, pressing, shell and kernel separation, water treatment, palm oil refinery and fractionation,filling. Henan huatai palm oil proc
How to set up a palm oil processing plant
Palm oil production line includes three main sections,
palm oil pressing plant, palm oil refinery plant and palm oil fractionation plant
. As the manufacturer of the palm oil production line, Huatai oil machinery can offer the whole line or part of the palm oil production line for different capacities with turnkey services.
Huatai palm fruit/kernel production line | Palm oil mill plant
1~100T/hour Capacity
Palm oil processing flow chart:
Henan huatai palm oil processing main processes include:
weighing, unloading fruit, sterilizer, removing fruits, mashed, pressing, shell and kernel separation, water treatment system, palm oil refinery and fractionation, oil filling.
You can customize your palm oil production equipment according to your capacity.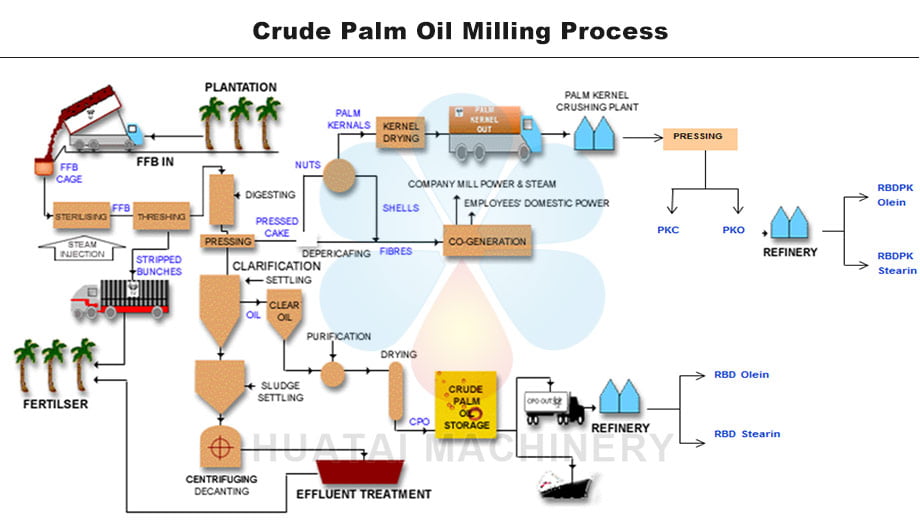 1. Palm oil pre-pressing section
Palm Oil press station: Separate palm fruit and kernel, and oil press machine can obtain CPO (crude palm oil) and palm kernel. The adoption of double screw and hydraulic oil press machine can greatly improving working efficiency during palm oil production.
Because of cooking, sterilizing, threshing and mashing made the pulp soft and damage pulp cell structure, the palm pulp becomes soft and cell is broken. Then it is sent to continuous screw press. After pressing, oil palm fruit is divided into two parts: the mixture of oil, water and solid impurities, and the press cake (fiber and nut).The pulp stone separation obtained CPO and stone, press machine adopts the double screw helix continuous discharge and hydraulic, greatly improving production efficiency.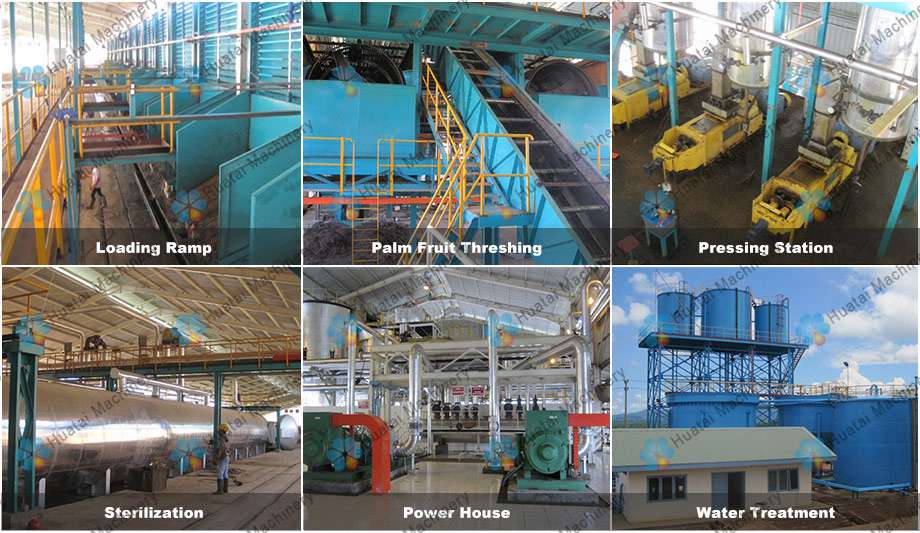 Palm Kernel Oil Pressing Plant Flow Chart:
Main station description:
Main process in palm kernel press line:
¡ô Palm kernel Cleaning : It is used for removing the iron impurities, stone, fiber and pthers. These impurities are bad for machines, especial for the palm kernel oil expeller.
¡ô Palm kernel crushing:because the palm kernel is hard and big size, it is required to crash to smaller and even pieces. If once crashing can not reach the requirements, the second crashing is required. Crush palm kernels after softening and drying. The centrifugal crusher breaks nuts and separate palm kernel out completely.
¡ô Palm kernel and nuts shell separation. Both dry and wet separations are available. Wet separation is mostly used in palm kernel separation, on basis of difference of relative density of palm kernel and shell.
¡ô Palm kernel drying. Fresh kernel contains 20% moisture. Palm kernel has no mildew during transportation and storage while moisture drops below 7%.
¡ô Cooking section: It is used for heating and cooking the crashing materials, to make is suitable for pressing, doing like this can help final user get the maximum oil and good quality cakes.
¡ô Palm kernel oil pressing. Palm kernel oil pressing processing line is simple with usual oilseeds. The pre-pressing by oil pressing machine can obtain 1/4 palm kernel oil, and residual oil need twice pressing.
2. Palm Oil Refinery plant
Basing on the traditional oil refining technology, our company has developed the latest combined packing layer plate deodorization soft tower and the physical and chemical mixed refining technology for crude oil of any quality. Moreover, a series of advanced technology and equipment are used, such as super wet deguming, bleaching earth automatic metering, negative pressure decoloring, high vacuum steam jet deodorization, deacidification, winterization dewaxing etc. With advanced technology, superior equipment, full-automatic control and excellent economic and technical parameters, our equipment can meet customers' different refining requirements at home and abroad.
Degumming and Deacidification Section:Palm oil degumming and deacidification section uses washing method to separate soap residual from mixing oil, providing preparation for next step palm oil refinery process.
Decolorizing Section:Palm oil decolorizing section is mainly used to remove oil pigment, residual soap and metal ions during palm oil milling process.
Deodorization Section:Palm oil deodorization section composes of part of crude palm mill processing equipment. It plays important part in improving oil quality after crude palm oil process.
Palm oil refinery plant chart: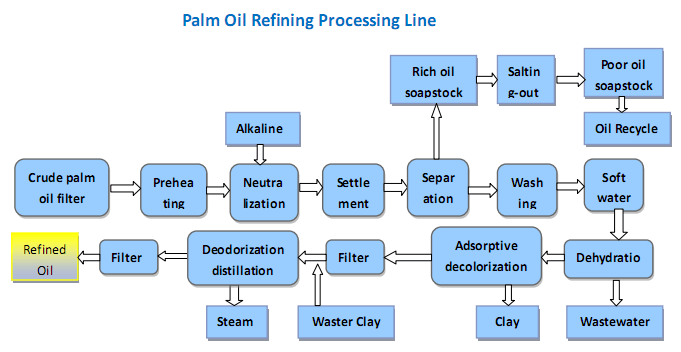 Featured advantages of palm oil refining process:
¡ô Advanced crude palm oil refining equipment configuration and precise equipment manufacturing
¡ô Automatic control system
¡ô Excellent technical and economical indicators
¡ô Meeting customers' different palm oil refining requirements at home and abroad
¡ô Palm oil refinery covers entire processing line of degumming and deacidification, blenching, deodorization and fractionation.
Also we can provide small scale palm oil refinery plant
3. Palm Oil Fractionation section
Palm oil fractionation Introduction:
Palm oil fractionation goes through the control of palm oil cooling and crystallization to make separation of palm oil into low melting point liquid (soft fat) and high melting solid (sterin). Fractionation of palm oil can be divided into three fractions: stearin (palmstearine), soft fat (palmolein) and middle section (palmmidfraction).
Palm oil automatic control dewaxing and degreasing process work under slowly stirring and cooling the oil to certain temperature in fixed time (technical security), and make waxy formed bigger crystallization, then separation exhalation, after filtering, it separates the fluid oil and solid fat.
After palm oil fractionation, palm oil will be clean after 5.5 hours in 0 degree Celsius, but it also can keep transparency and flowability in the refrigerator and improve the oil quality and appearance.
Palm oil fractionation process chart: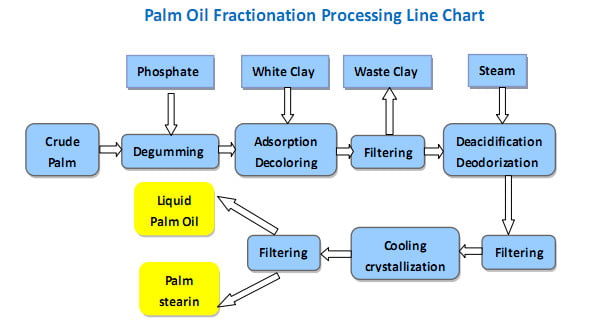 Palm oil fractionation process chart: