Coconut oil production lineDescription
Coconut oil, also known as copra oil, is an edible oil extracted from the kernel or meat of mature coconuts harvested from the coconut palm, Coconut oil is called the healthiest edible oil in the world. Filipinos call coconut oil "the drugstore in a bottle."
Coconut oil (copra oil) has wide applications in food and chemical industries, therefore, it is produced in many areas. In the year 2012, world coconut oil production was 49300000, which is almost 15times of the year 2000 (3310000 tons); Indonesia is the world's largest supplier of coconut oil, followed by Philippines, India, Brazil, and Sri Lanka.
Huatai Copra oil mill plant mainly includes three processes: the pretreatment of oil, extracting and refining.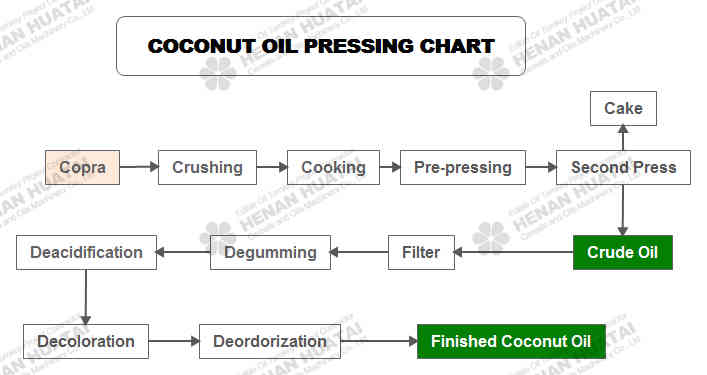 Coconut oil pretreatment processMain steps
Copra→cleaning→crushing→steaming and frying→ pre-pressing→ twice pressing→crude oil

Coconut oil refining plantMain steps
Coconut oil mill plant mainly includes crushing section, steaming and stir frying section, extracting section, degumming section, deacidification section, decoloration section and deodorization section.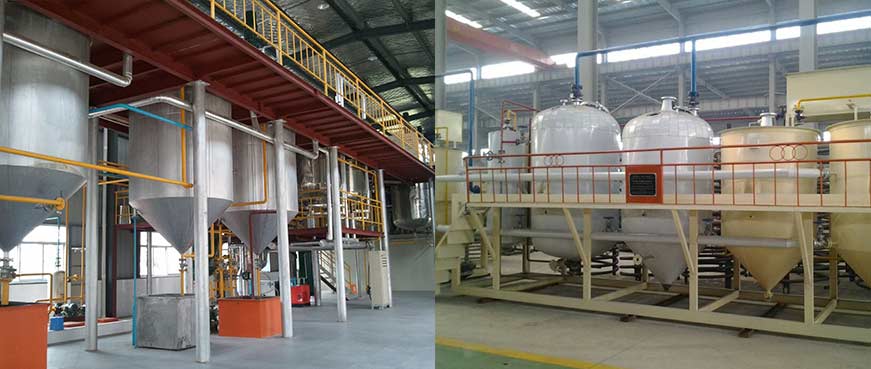 Coconut oil production processSteps
Main processes include: Seed Cleaning & Weighing, Copra conveying, Conditioning, Flaking, Cooking, Pressing, Oil Residue Separation.
The main component of coconut oil is lauric acid (about 50%). It is also the main component of the fat in breast milk. It is the healthiest oil and has no harm to human body. Lauric acid is a kind of medium-chain fatty acid, which is easy to decompose and absorb, not hoarding, and it is quite stable, not easy to deteriorate. Coconut oil has strong antibacterial activity against bacteria, viruses and even gastrointestinal parasites in the body.
Coconut oil is suitable for children, the elderly and those who are weak and resistant to infection.
Coconut oil has many magical effects. Coconut oil is saturated fat, lipid stability, not easy to oxidize to produce free radical attacks, it can be used for beauty and anti-aging, this kind of oil has a strong antioxidant capacity, which can help prevent the production of free radicals, both oral and external use can moisturize the skin.
CONTACT US NOWRich experience in grain and oil engineering