Palm fruit oil production lineDescription
Huatai Oil Machinery is a leading company in the field of palm fruit oil and palm kernel oil technology and equipment, we can provide completely set of palm oil production line. Our company offers a range of products and services for the palm oil extraction, palm oil refining and palm oil processing.
Huatai Oil Machinery has more than 60 years of experience and expertise in the palm oil industry, and has successfully completed many projects in China and abroad. Huatai Oil Machinery is committed to providing high-quality, cost-effective and environmentally friendly solutions for its customers.
Palm oil is an edible vegetable oil derived from the fruit of the oil palms, palm oil and palm kernel oil are produced from pulp and kernel respectively, which are widely used in catering industry, food industry, etc. Why do food manufacturers prefer to use palm oil?
Palm oil is a kind of plant oil made from tropical woody plant-Palm. It is one of the largest produced, consumed and traded oils in the world, which is called The World's Three Major Vegetable Oils together with soybean oil and rapeseed oil.
Palm oil after pressing, refining and fractionation can get different melting point products, which are widely used in catering industry, food industry and oil & fat industry.
Main process in palm kernel press lineThe main steps of palm oil processing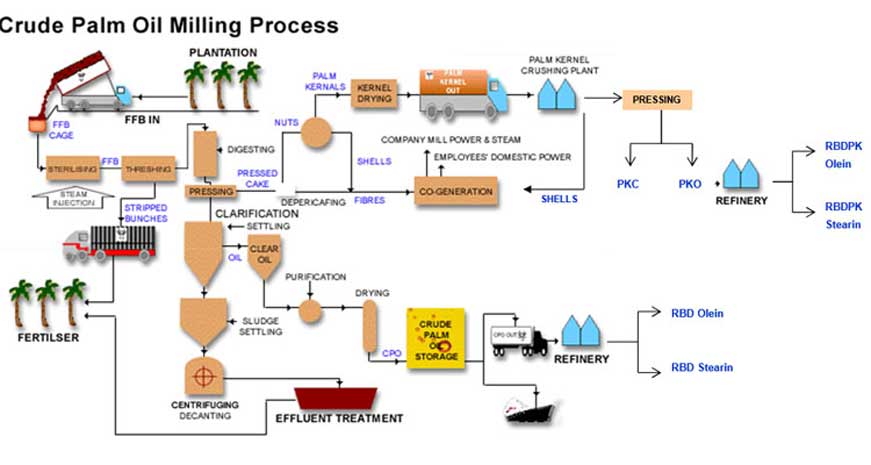 Main process in palm oil pressingThe main steps of palm oil pressing

Oil pressed from pre-press and solvent extrating are both crude oil. For using in cooking, crude oil should be refined for edible oil for human being. Refiney section is mainly the parts for Degumming and Neutralizing, Bleaching, De-waxing, and De-odorizing. Then refined oil can be used directly for daily usage.
Palm oil refining plantThe main steps of palm oil refining
After previous pre-treatment and pressing, crude palm oil shall be refined in complete oil refining line to get rid of FFA, natural pigment (decoloration) and odor (deodorization), and become salad leve oil – refined palm olein (RBD PO) and palm salad oil (RBD PKO).
The palm oil after refining is nearly colorless and transparent under liquid state, and is white under solid state. Besides, according to different user requirements, palm oil can further go through fractionation process to form PFAD, Olean, and Stearine.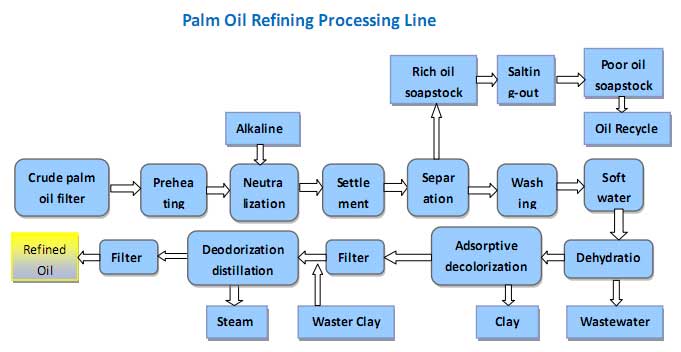 Palm oil fractionation plantThe main steps of palm oil refining
Refined oil fractionation: after entering the fractionation tank for cooling, the upper layer liquid is 24℃ OLEIN (i.e. 24℃ refined oil), the lowest layer is 44℃ solid refined oil, the output ratio is 24℃: 75%, 44℃: 25% (the highest cost). B. Pressure filtration: equipment is constant temperature plate pressure filter; if user want to production 24℃ oil, the temperature is set at 24℃, add pressure 6 – 10 atmospheres, liquid oil flow out, and solid fats discharged from the plate.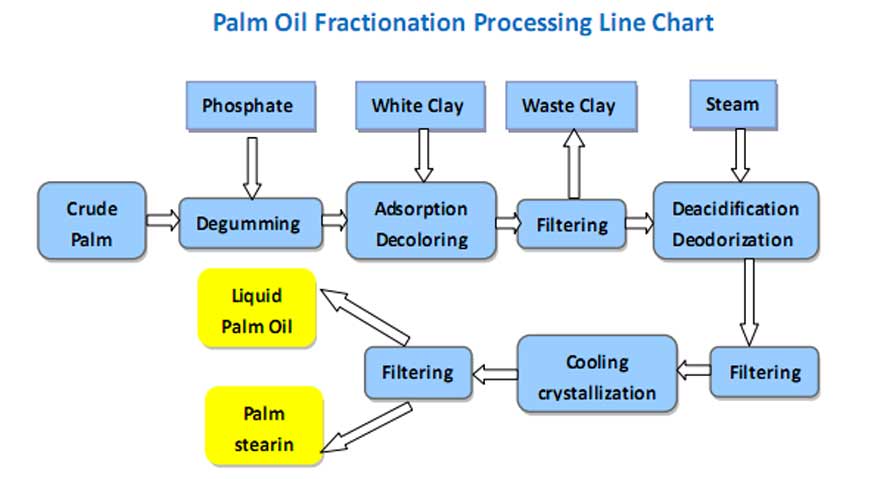 CONTACT US NOWRich experience in grain and oil engineering